Safe Person Strategies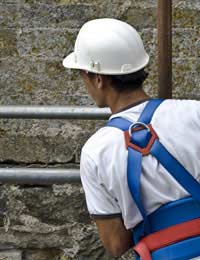 Safe person strategies are a fundamental tenet of good health and safety practice. They should be considered in instances in which it is not possible or reasonable to implement safe place strategies (which are covered in more detail in an article elsewhere in this section). They are designed to protect the person who is exposed to unavoidable risks. Safe person strategies rely in great part upon the individual concerned ensuring that they abide by the regulations set out in the strategy. For example, if it is decided that they should wear a particular item of protective clothing while doing their job, the strategy will only be successful if they do so.
Protecting the Individual
There are a number of key areas that safe person strategies may be required to address. In the first instance, it should always be remembered that their purpose is to protect those who are vulnerable to risk. In many workplaces, some individuals will be necessity be exposed to a higher degree of risk than others. However, the strategy should not only address those who are at risk as a result of the nature of their job, but should also take into account the risk to which workers are exposed as a result of their own characteristics. For example, an effective safe person strategy would recognise that younger, less experienced workers are exposed to a higher level of risk by their very nature. Similarly, it may be necessary to make special provisions for people with disabilities. These can be addressed by ensuring effective supervision and, if necessary, regular medical checks. Indeed, there are a certain number of jobs for which regular medical checks are compulsory, particularly if the individual is handling toxic substances.
Personal hygiene must also be considered when developing safe person strategies. In great part this depends on the individual's own habits; the washing of hands before preparing food, for example, is a legal requirement that must be encouraged by the employer, even though it is hoped that most people would carry out this basic task of their own accord. Regardless of this, employers are required to provide adequate facilities to make possible the maintenance of good personal hygiene. This is likely to include a sufficient number of basins, as well as regularly replenished liquid soap and drying facilities.
Employees' Responsibilities
The Health and Safety at Work Act (HSWA) places other responsibilities on employees. Primarily, it is expected that every individual in the workplace will conduct themselves with sufficient care to ensure that they do not impact negatively upon the safety of their colleagues. This can take a very basic form; dangerous driving of any vehicles in the workplace, for example, or the misuse of equipment and machines, can both have a significant effect on the safety of others in the workplace. An effective safe person strategy should develop ways in which employee behaviour can be monitored and action taken to ensure that good working practices are maintained.
Finally, any safe person strategy relies upon all employees, as well as the organisation itself, having sufficient knowledge of the potential risks present in the workplace. These should be outlined in the risk assessment (covered in more detail in an article elsewhere in this section) and should be made known to everyone.
You might also like...