Health and Safety Technology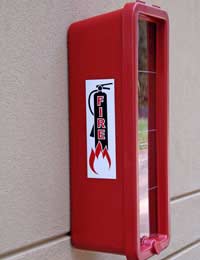 Technological advances have made a huge impact on safety in a number of different situations. The advent of for example, smoke detectors and carbon monoxide alarms has meant that both the home and the workplace are becoming increasingly safe.Employers have a legal duty to ensure that adequate and appropriate health and safety technology is in use on their premises. Depending on the type of work that takes place, the elements required might be as simple as fire extinguishers and smoke alarms, or as complex as automated alarm systems for hazardous substances. This article looks at a small range of the huge variety of technological solutions that may be applicable in any one situation.
Fire
One of the most common examples of health and safety technology is the fire extinguisher. This is a requirement in all public enclosed spaces. Most fire extinguishers are designed to be portable, and operated by hand. They contain an extinguishing agent, the specific makeup of which will depend on the type of fire it is designed to extinguish. There are a number of statutory requirements for the storage and labelling of fire extinguishers. Primarily, it should be noted that the casing of the extinguisher must be red and must include a label, the colour of which is determined by the type of extinguishing agent. Portable fire extinguisher labels are coded as follows: red for water; cream for foam; black for carbon dioxide; blue for dry chemical powder; and green for vaporising liquid. The positioning of the extinguisher is also important. In the first instance, it is vital that sufficient staff members have been trained in their use, in order that there is always a trained employee on and in the event of a fire. Furthermore, if the premises encompass more that one floor, there must be an extinguisher in the same place on every floor. Finally, if there is an area of specific fire risk, the appropriate type of extinguisher must be available near by.
Hazardous Substances
Another common use for health and safety technology is in the mitigation of risks caused by the presence of hazardous substances. Potentially hazardous substances are used in a wide variety of occupations, including within the agricultural and medical sectors. Definitions for different types of hazardous substances are given in the Chemicals (Hazardous Information and Packaging for Supply) Regulations 1994.
The Control of Substances Hazardous to Health (COSHH) Regulations 1999 gives details of the responsibilities taken on by employers who require their workers to handle hazardous substances. The Regulations stress the importance of preventing initial exposure to these substances or, where this is not possible, controlling the degree of exposure. In the latter case it is important to understand that the supply of protective equipment is no longer legally sufficient as a method of preventing illness. Rather, employers should additionally make use of technology such as Local Exhaust Ventilation (LEV). LEV makes use of extract ventilation to minimise the concentration of hazardous particles in the air. It removes pollutants from the area in which the process or operation in question is taking place, purifies the air, and then generally disperses the clean air around the workplace. Further information on the uses of LEV systems can be found in Health and Safety Executive leaflets HSG37 and HSG54.Finally, it should be noted that this is a very brief, highly selective account of health and safety technology; the elements required in an individual workplace will depend entirely on circumstance.
You might also like...