Occupational Health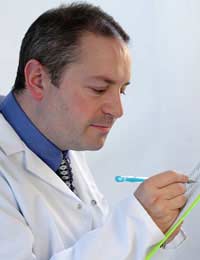 In the field of health and safety, good occupational health practice is one of the most important elements. Depending on the size of the organisation in question, many different individuals may make up an effective occupational health system; regardless of how large or small the organisation, one of the key members of this group will always be a trained first aider.
Prevention
Occupational health practice is, at its essence, a preventative discipline, although it is also sometimes concerned with the treatment of occupational illness and injury. As with other aspects of good health and safety practice (some of which are covered in more detail in articles elsewhere in this section), there is an emphasis on the individual's responsibility for their own safety at work. However, the training of staff is also equally important as a way of identifying and mitigating risks.
One of the fastest-growing areas of occupational health practice is pre-recruitment medical screening. In many occupations it has been standard practice for employers to conduct medical examinations of their prospective employees well before they are brought into work. However, while this has previously been limited to certain 'high-risk' or specified jobs, it is gradually being extended into more and more fields of work. Finding suitable individuals is particularly important, for example, in occupations that require driving skills; thus, in order to further limit the chances of an accident, many employers now require an advanced sight check in addition to that which is included in the standard driving test.
Health Surveillance
Another important element of occupational health practice, and one which is a legal requirement under the Management of Health and Safety at Work Regulations, is the effective surveillance of employees' health. The frequency with which this surveillance occurs will depend on the nature and severity of the risks to which the employees are exposed. In particularly high-risk occupations, such as those in which employees are exposed to radiation, the surveillance might consist of monthly or bi-monthly evaluations by a health professional. In lower-risk occupations, these examinations might be required only once a year.
Occupational health practice is not, however, entirely concerned with the prevention of accidents and illness. There is also an important role for trained health professionals within the workplace, as it is these individuals who are best qualified to quickly and effectively deal with accidents when and if they happen. Again, the nature of this treatment programme will depend on the size of the organisation; it is simply not viable for all organisations to have an on-site nurse, for example. However, larger organisations are likely to find that the expense of maintaining a dedicated health practitioner is bearable as it will dramatically reduce the number of work hours lost as a result of trips to A&E or the doctors'.
It should be remembered that occupational health is a vast subject, with an ever-growing accompanying literature. This article outlines some of the most fundamental aspects of the field, but those who are interested or concerned with this important area may also consider looking into the related courses and qualifications that are detailed in another elsewhere on this site.
You might also like...