Choosing a Good Personal Injury Lawyer
By: Lorna Elliott LLB (hons), Barrister - Updated: 22 Apr 2013
|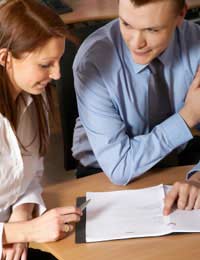 If you have been injured, one of the first things you may be thinking about is whether you should contact a lawyer. Once you have decided that you want to seek compensation for the injuries you have sustained, you may turn to the Yellow Pages, the Internet or your local high street firm of solicitors for help. But before you choose a firm, you may want to ask yourself a few questions about the type of service you are expecting and what is most important to you.
Are They a Solicitor?
Firstly, make sure that the company you are dealing with has lawyers working within it. It may sound strange but there are a lot of 'accident claims companies' that are merely call-centres and claims management companies who have no legal training whatsoever. They offer a very impersonal service and you may end up feeling like a reference number rather than a person.
Are They a Specialist in Personal Injury?
There are also very many types of solicitors. It probably isn't sufficient to rely on 'that person who did our conveyancing' or 'the next door neighbour's divorce lawyer.' While there are some solicitors, often in small high street firms, who will deal with a large variety of legal work, they may not be specialists in personal injury claims. Other firms only concentrate on personal injury claims, and may have expertise in a wide range of accidents.
In order to choose the right lawyer, you may want to check their qualifications and whether they have membership to the correct panel. For example, if you have been involved in a motor accident, you could check that your solicitor is a member of the Motor Accident Solicitors Society (MASS), which is an association that campaigns for accident victims' rights. The Association of Personal Injury Lawyers or APIL is another such organisation for specialist solicitors working in this area of the law.
Will You Get All of Your Compensation?
You should always ensure that any compensation awarded to you will be paid in full to you. Using a lawyer who takes a percentage of your compensation will mean that you do not get the full amount you deserve. When you win a compensation claim, the defendant party or parties should usually pay your costs, which means your personal injury lawyer will get paid their costs out of this amount. Furthermore, you should also ensure that if you do not win your compensation claim, you are not liable to your solicitor to pay costs. Usually, personal injury solicitors will take on your case on a 'no win no fee' basis, which means that if you do not win your case you do not pay your lawyer's fees. Because most personal injury lawyers work this way it is often the case that if your potential claim does not have good prospects of success then you may have trouble getting a solicitor to take on your case.
Can You Work With Your Choice of Solicitor?
You are likely to be dealing with your solicitor for many months to come. As a result you need to know that you can communicate with them. If you do not get on with your solicitor, if they threaten or intimidate you, or if you feel that you are not treated properly, go elsewhere. You deserve a good, professional and honest service and there are plenty of firms out there who want your business.
You might also like...