What is Compensation and When Can I Claim?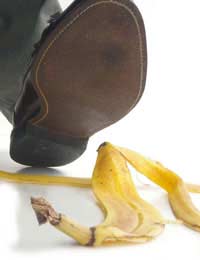 'Compensation' and 'culture' are two words that have become inextricably linked through repetition. All too frequently this apparently new wave of enthusiasm for compensation is berated in the press; there seems to be a great fear that the legal and cultural landscape has changed in recent years to allow individuals to demand recompense for anything and everything. In particular, businesses decry what they see as an unjustified curtailment of their freedoms by over-zealous health and safety legislation.
The reality is very different. Compensation is a public right, and a valuable tool for those who have suffered injury or loss as a result of another party's negligence.
What is Compensation?
At its most fundamental level, compensation is a legal device by which individuals can receive some recompense, generally financial, for a wrong perpetrated by a third party. This is a basic right in law, and has been since the concept was first recognised by the courts in the labour law reforms of the 1940s and '50s. In fact, compensation has been an intrinsic part of international law since the early part of the Twentieth Century; Germany was forced to pay reparations in part to compensate other countries for damage caused during the First World War. This principle is now a primary element of consumer law.
Compensation settlements are judged by courts of varying seniority. In most cases, if legal proceedings are necessary, the case will be heard initially by a Magistrate's Court. If either party is unhappy with the judgement they have the right to appeal, a process which can, in the most serious cases, continue all the way to the House of Lords, which is the highest appeal court in the UK.
In many instances, however, there is no necessity for court action as a settlement can be reached by other means; direct negotiation, arbitration and mediation are all examples of methods of so-called 'Alternative Dispute Resolution'.
Personal and Occupational Claims
The majority of compensation claims come as the result of a personal injury. If, for example, an individual is in a public place and slips on an unmarked wet floor, there is a case for compensation if it can be proved that the organisation responsible for the running of that public place is negligent; for example, if it can be shown that they have a statutory or common law responsibility to ensure that slippery surfaces are clearly marked.
Compensation claims can also be brought for occupational illnesses or injuries - that is, for illnesses suffered or injuries sustained in a place of work. Many claims are brought by employees who have suffered an injury as a result of their employer's failure to provide adequate safety equipment. Another increasingly common reason for compensation claims is the contraction of mesothelioma, a type of cancer caused by exposure to asbestos. Mesothelioma and asbestos claims are dealt with in more detail in an article elsewhere on this site.
When considering whether or not you can claim compensation, it is important to keep in mind the concept of negligence. In order for a claim to be successful, it must be proved that the defendant had a 'duty of care' to you; that is, that they had certain legal responsibilities for your welfare. Furthermore, it must be shown that this duty was breached; that damage or loss has been suffered; and that this damage or loss was caused, either in whole or in part, by that breach. Contrary to media speculation, spurious compensation claims are unlikely to be successful and, therefore, unless all of the above criteria can be fulfilled, there is little point in pursuing a claim.
You might also like...