Asbestos Claims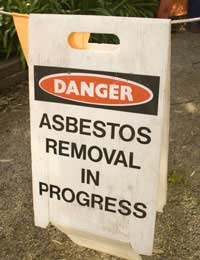 Occupational injuries and illnesses can come in many forms. Clearly, an injury sustained at work is immediately evident; if an employer is negligent, therefore, action against them can be started immediately. This is important as there are strict limits concerning the length of time in which individuals are able to make a compensation claim after the event. This poses problems, however, for those who contract an illness as a result of their occupation.
Many occupational illnesses take a number of years to present any symptoms, and it will frequently not be clear that an employee has any such illness until well after they would have been able to claim compensation. A particularly frequent example of this type of illness is mesothelioma.
What is Mesothelioma?
Mesothelioma is a type of cancer, caused by exposure to asbestos. The vast majority of mesothelioma cases are as a result of occupational use of the substance, which has now been banned for some years. There are two types of the disease, both of which are caused by this exposure. There is currently no cure for mesothelioma, which leads to the development of a tumour on the lining of the lungs or abdomen. Unfortunately, it is still considered a fatal disease.
Mesothelioma has caused considerable legal controversy in recent years. This controversy can be broken down into two fields: corporate responsibility, and the compensation process.
Corporate Responsibility
Many of those suffering from mesothelioma have in fact worked for a number of different contractors, each of whom required them to handle asbestos. As a result, the House of Lords originally upheld a claim from contractors and their insurers stating that they should not be held individually responsible as it was impossible to determine which was to blame for the illness.
This obviously caused serious hardship as many sufferers were left with no recourse to justice. This ruling was later overturned, however, paving the way for an increasing number of cases that hold several contractors jointly responsible. As a result, if you are suffering from mesothelioma it is important to remember that it is not necessary to know which of your employers is individually to blame.
Time Limits
The second controversy has surrounded time limits for compensation claims. In most cases, personal and occupational injury and illness claims are subject to a three year time limit – that is, a claim must be lodged within three years of the incident. In the case of occupational illnesses, however, this time limit has been overturned. Now, it is possible to make a claim within three years of the discovery of the cause of illness.
This has largely solved the problem of individuals being left with no chance of claiming compensation as their symptoms only presented after the time limit had expired. In the case of claims being lodged by dependants of individuals who have died of mesothelioma, the three year period begins from the date on which asbestos exposure was determined to be the cause of death.
If you are considering applying for compensation for mesothelioma you should consider employing the services of a specialised lawyer. These cases can be complicated, particularly from a medical point of view, and it is therefore advisable to at least seek advice from a legal practitioner with experience in this field.
You might also like...