Injured? What to Do First
By: Lorna Elliott LLB (hons), Barrister - Updated: 21 Nov 2012
|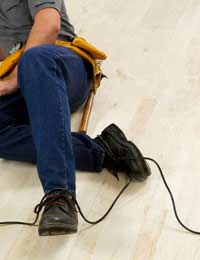 It is vital in the immediate aftermath of an accident that you think before you act. The moments straight after the accident can be critical in terms of the success or failure of any future claim. You therefore need to ensure that you do not prejudice any future proceedings or claim that you may have for personal injury, or to give the other side any ammunition with which to attack your credibility or liability later on.
Whether you have been in a car accident, trip, slip or fall, or have had an accident at work, this advice is relevant regardless of the type of accident you have been involved in.
Never Discuss Who is to Blame
You are likely to be shaken by the incident, but it is vital that you stay calm. If the accident was nothing to do with you and you are blameless, this may feel like a tall order. Regardless of the circumstances, you should ensure that you do not discuss with anyone else at the scene who is at fault and what could have been done to avoid the accident. In particular, and although it is a very 'British' thing to do, you should not apologise. It is not unheard of for victims of accidents to offer an apology, and to ask whether the other person is all right – when they have done nothing wrong. Furthermore, you should not make any kind of admission of fault as it can affect your later claim. Similarly, you must avoid making accusations or becoming aggressive or abusive.
You should also remember that while the fault may be absolutely evident to you, the other side and the lawyers involved may spend many months ahead wrangling over liability. It is therefore important to try to gather as much evidence as you can, as soon as you can, after the accident occurs. If you have a camera function on your mobile phone take pictures of the scene, recording what the weather was like, any damage, and any other appropriate images.
If there were any witnesses to the accident, make sure you are able to get their names and contact details. If you are hospitalized, or are too injured to be able to do so, go back afterwards to take photographs of the scene when you can. If there is CCTV footage, try to obtain this before it is erased (this is normally retained for approximately 30 days, but you are advised to seek its retention as soon as possible.)
Go to Your Doctor
If you were not hospitalized after the accident, you should go to the doctor shortly afterwards in any event. In some cases, injuries may not be immediately apparent and can take several days to take effect. You should also ensure that you record the pain that you feel, by keeping a diary of your symptoms. Do not ignore dizziness, headaches, confusion, forgetfulness or loss of appetite. Quite often, you may disregard these symptoms as minor, but when you look back at them you realise how strange you felt at the time.
Make sure you take the time to find the right lawyer to take on your case. It is likely that, after an accident, an insurance company, lawyers, or another organisation may take over the handling of your case. Before you sign anything at all, you should ensure that you have sought and obtained independent legal advice. If you do sign something before seeking legal advice, you may not be entitled to choose your own solicitor. In the worst cases, you could essentially waive your right to a proper settlement or receive nothing at all.
You might also like...