Vicarious Liability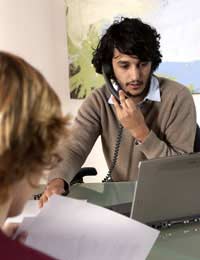 As an employer, it may often seem that ensuring that your organisation's health and safety practices are in order is a huge burden. There is an apparent maze of statutes and requirements that must be followed, and keeping up with legislative changes can appear problematic. It may come as an unpleasant surprise, therefore, to discover the principle of vicarious liability.
Vicarious liability is based upon the principle of 'respondeat superior'; in essence, this means that any third party which has the right or ability to control the actions of a subordinate can be held liable for those actions. This poses potential legal problems for employers.
Actions of Employment
The principle of vicarious liability applies to employers in situations where an employee is found to be negligent as a result of an act that they have committed in the course of their employment. One of the problems with proving that a company should be vicariously liable is ascertaining whether or not the act in question occurred while the employee was performing tasks of their employment. In order for this to be the case, the act must have been authorised by the employer. Alternatively, if it is not in itself authorised but is sufficiently connected with an act that has been authorised, then it could be considered an 'improper' means of carrying out the individual's responsibilities of employment. Vicarious liability will again therefore apply.
The courts may also be required to determine whether an action was a 'detour' and a 'frolic'. These may seem like unlikely legal terms, but they can decide whether or not an employer is vicariously liable. If an employee is acting outside of their normal employment, the employer may still be liable. This will be the case if the employee has taken a 'detour' (that is, if they are still performing the duties of their employment, but simply in a roundabout way). A 'frolic', however, is deemed to have occurred if the employee has acted entirely of their own volition and is not acting on behalf of the company. In these cases, the employer will not be liable.
Limitations
There are some offences for which vicarious liability will apply only in certain circumstances. For example, it is highly unlikely that an employer would be held liable for its employee if they are charged with assault and battery, as use of force is unlikely to form part of the individual's employment. The exception to this, however, concerns those in employment in which force is sometimes used. For example, a police force would be held liable for an assault on a member of the public by one of its employees. This is also extended to those who are in occupations in which conflict is likely to be caused, for example bailiffs.
It should be remembered that vicarious liability and contributory negligence are distinct principles. While the former concerns only the liability of employers for their employees' actions, contributory negligence applies to situations in which more than one party is held responsible for an accident. Both principles may therefore apply in the same case.
You might also like...