Claims for Unfair Dismissal
By: Lorna Elliott LLB (hons), Barrister - Updated: 8 Sep 2012
|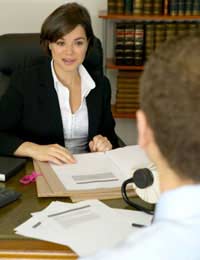 In order to be eligible to make a claim for unfair dismissal, the employee has to meet certain requirements. The employee must work part time or full time, although the actual number of hours worked each week is not relevant. The employment must have been continuous for at least one year, except where the employee has been dismissed over certain issues, including:
a trade union issue, such as refusing to join a union or joining a union;
where dismissal concerns pregnancy or maternity rights;
where the dismissal relates to sex, age, race or disability discrimination (in which case they should consider making a discrimination claim, rather than an unfair dismissal claim);
dismissals over an employee asserting their legal rights. Legal rights include rights contained in the Working Time Regulations, Tax Credits Act 1999, and the Part Time Workers Regulations 2000, amongst others. If you are uncertain as to whether you are able to make a claim in these circumstances, you should contact a specialist employment lawyer.
Get a Lawyer
If you are considering making a claim for unfair dismissal, it is important to take action without delay. Employees only have three months within which to make a claim. You should always bear in mind that your solicitor will in most instances need to take some time to prepare the claim, so you shouldn't wait until the three months is nearly up before seeking legal advice.
The Date of Dismissal
The date on which the employment ended is very important in these circumstances. Known as the EDT, or Effective Date of Termination, it is not always the date when the employee finds out that they are dismissed. If you are given notice of your dismissal, the EDT runs from the date when you were notified. If you are dismissed without notice, the date runs from this day. If you are given payment in lieu of notice, the date will be the day on which you find out about the dismissal.
Retirees
Employees who are dismissed when they reach the normal retirement age for their type of job cannot bring a claim for unfair dismissal. This is always at least 65, but cannot be lower than this. There are, however, exceptions to this, such as the employee being dismissed for belonging to a trade union despite he or she having reached the age of 65.
Constructive Dismissal
If an employee becomes so fed up with their employer's behaviour that they decide to leave their job, they may have a claim for constructive dismissal. These situations can be very difficult for an employee, and include making the employee's working conditions so difficult that they are forced to leave their job. Typical examples include:
failing to support staff in difficult situations;
harassment, bullying or humiliating staff;
falsely accusing them of serious matters such as theft or incompetence,
changing the terms of a job without telling the employee;
telling them they have to work in another location (which is significantly different from their usual location).
subjecting employees to excessive discipline or demotion
It should be noted that a claim for constructive dismissal must prove two things: firstly that the employee was dismissed, and secondly that the dismissal was unfair.
You might also like...